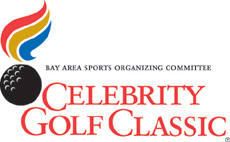 You are cordially invited to attend The Bay Area Sports Organizing Committee's (BASOC) 6th annual BASOC Celebrity Golf Classic on Monday, September 17th at Palo Alto Hills Golf and Country Club.
Please purchase a Corporate Foursome, a sponsorship, or an individual golf spot for our 6th Annual BASOC Celebrity Golf Classic at the beautiful, highly rated, and challenging Palo Alto Hills Golf and Country Club. The cost of the foursome is $2,500 and includes green fees, carts, tee prizes, lunch, reception and dinner. Your contribution to BASOC, a 501 (C) (3) non-profit organization, is tax deductible Tax ID # 94-3052945.
With us at Palo Alto Hills Golf and Country Club will be Northern CA Olympians, sports and media celebrities. This is a wonderful opportunity to build relationships and entertain your special clients at this prestigious golf course, while contributing to the future of sports and youth programs in the San Francisco Bay Area.
BASOC continues to be a volunteer membership based organization and our costs to carry out these activities remain quite low. Our Annual BASOC Celebrity Golf Tournament continues as a Fundraiser to help support BASOC'S financial needs and help us continue our efforts in the community.
BASOC's mission is to:
Support international, national and regional sporting events in the San Francisco Bay Area.
Continue our outreach programs to share the ideals and values of the Olympic Games with Bay Area youth in partnership with the Northern California Olympians.
Support the development of new sporting facilities and venues in the San Francisco Bay Area.
Pursue with confidence the ultimate goal of hosting the Olympic Games.
In the past three years, BASOC has bid on several exciting national & international sporting events and has won the right to host the 2006 FINA World Masters Aquatic Championships, the 2007 World Junior Table Tennis Championships and the 2009 National Senior Games, The Senior Olympics. With our new USOC Community Partnership agreement we anticipate many more successful events and opportunities to contribute to youth sports programs in our San Francisco Bay Area.
We look forward to seeing you at Palo Alto Hills Golf and Country Club on Monday, September 17, 2007.
Download the 6th Annual BASOC Celebrity Golf Reservation Form
Download a list of sponsorship opportunities for the Golf Tournament.
Sincerely,
Anne
Anne Cribbs
President / CEO
Art
Art Lund
Golf Co-Chair
Jim
Jim Woolwine
Golf Co-Chair
Helen
Helen Mendel
Marketing Dir